Blocked Drains / Drain Cleaning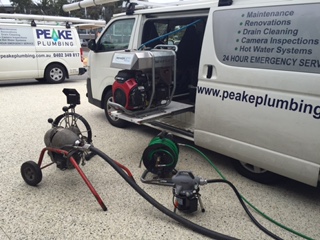 Peake Plumbing specialises in blocked sewer drains, toilet drains, shower drains, basin drains and sink drains.
Blocked drains can create an unhygienic mess that requires urgent attention.  Peake Plumbing is available to attend to any emergency blocked drains.
A blocked sewer drain can be a major problem as it is commonly the cause of some or all of the fixtures in the house being obstructed.  It can also be unhygienic as it may flow out from the overflow gully above ground causing an unpleasant odour.
Common causes of blocked drains are:
Tree roots;
Food and fats from sinks; and
Objects not suitable to go down drains.
Options to clear blocked drains include: