Leaking Toilet Repairs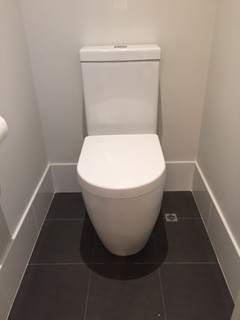 Leaking toilets can cause a great deal of water waste and can go unnoticed for many months.  The signs of a leaking toilet include:
Stain on the back of the toilet bowl;
Occasional "hiss" sound from float valve; and
Slight dripping noise coming from cistern.
There are usually two easy steps to repair a leaking toilet:
Replace outlet washer; and
Replace float valve.
Peake Plumbing carries almost all parts on board our vehicle required to service a leaking toilet.  It is unlikely that a cistern will need replacing. However, if this is necessary we can replace some cisterns on the spot.
Water leaking onto toilet floor?
Generally, a leak from a toilet onto the floor is quick and easy for a licensed plumber to fix.  The four main things to look for on a leaking toilet are:
Rubber seal on flush pipe (generally cracked);
Rubber seal around the toilet waste pipe either coming from the wall of from the ground;
Mini stop tap may be dripping from the handle which indicates rubber o-ring is faulty;
Nuts on either flexi hose or copper pipe from tap to cistern.